OUR MISSION
OBERG® manufactures waste processing and handling equipment, with primary emphasis in hydraulic compaction equipment used to reduce waste volume.
Oil Filter Crushers – 

heavy duty crushing equipment for recycling automotive oil filters, industrial oil filters and used oil.

Oil Filter Balers

 used for commercial filter and scrap metal processing.
Since the factory opened in 1989, OBERG® Filter Crushers has focused on building a durable, reliable heavy-duty machine that will meet your specifications and stand the test of time.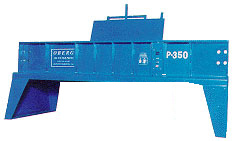 OUR VALUES
As a customer, your total satisfaction is the most important goal OBERG® Crushers can achieve as a company. Customers give one of two responses when it comes to service:
Either their OBERG® products have never given them any problems
Or they gave us a call and we immediately took care of their needs
Please speak to a few OBERG® Crushers customers before making your buying decision. If you feel more comfortable seeing a unit firsthand, give us a call and ask us to find a unit in your area that you can see in operation.